Oooh, Ladies First: How Women Rule the Lifestyle
During my time in the Lifestyle, I've always heard that women run things, that we are the ones truly in charge, but I'd never really taken the time to ponder the truth of that statement, or how it really applied or mattered. But after taking some time to really think about it, yes, I'd have to agree- yep, women really are the leaders of the pack.
Take from: My Wild Lifestyle
By: Serendipity702
Don't fret, guys… Having the women in control doesn't mean that you're going to be left out of anything, but what it does mean is that you may have to defer to the ladies when it comes to navigating the Lifestyle- that is, if you want things to run smoothly.

Initially, I think that men often start the process, as they usually are the ones to introduce the idea of the Lifestyle to their mates. Whether they heard about it during their online porn searches, or from a friend, or another couple, men may typically bring up the idea of swinging to their wives or girlfriends. Perhaps the man is the one who broaches the idea of setting up a profile on a website, or cruising Craigslist, or attending a party. Perhaps he even eases her into accepting the idea of being with others. But beyond the early stages, once a couple decides to actually join "The Lifestyle", women then take the reins.
Think about it, in the majority of couples' profiles, most of the pictures (I'd say 80% or more) feature women rather than men. While there may be a picture of the male sprinkled in here and there, or a picture of the two of them, women are definitely considered the "desired" sex. And with good reason- women are sexy! You'll find both women and men appreciating the charms of a beautiful woman. Another reason for most profiles "leading" with women is because many Lifestyle females identify as bisexual or bi-curious, and most men identify as straight, so in order to attract others, you're going to display the person who is going to be most enticing to the greatest number of people- the woman.
You'll see the same thing at parties or clubs- women will be dressed to the 9s, in sexy, skimpy attire, costumes, or theme, while most of the men are rather plainly dressed, allowing the ladies to garner most of the attention. That's okay! Don't try to steal the spotlight from your lady; these events are designed to let her shine.
Side Note: While the ladies are indeed the stars of the show, men, you are NOT allowed to let yourselves go completely. I'm sure we've all seen many times when the woman is amazingly beautiful, in shape, hair and makeup done, and the man looks like he's just given up on life. Don't be that guy! Groom, eat right, exercise, and take care of yourselves. I've passed on many a couple where the woman is fabulous, but the guy looks like Shrek.
Ok. Public Service Announcement over.
All of this is mostly superficial, however. When it comes to the nuts and bolts of the Lifestyle, women in general are the decision makers. Although men often like to be the Alphas in life, in the Lifestyle, they often have to take a backseat to women. Women, because they tend to be more discerning (sorry guys, sometimes you seem like you'll take anything that is offered), are the ones to make the final decisions about who or what they'll do, and by extension, you'll do as a couple. This is pretty much an unspoken "rule" all around. Although decisions are made jointly, women get to have the ultimate say-so in what is going to happen. We get to be the pickers. Don't fight it.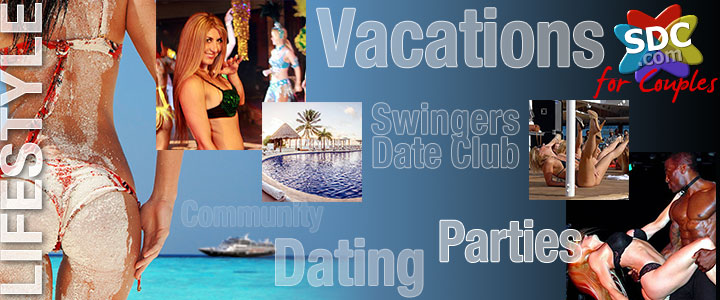 The reasons for this are many. Women tend to be more social creatures; we take the time to get to know others and to develop bonds. These bonds are necessary in order to develop chemistry and comfort before anything else happens. If the woman isn't comfortable, then things probably aren't happening. Or if they do happen, it may not be too fulfilling all around. Yes, you may get your rocks off, but you'll also have to deal with the aftermath, so it may not be worth it. As you may have noticed, sex for women can often be mental, in great part, as well as physical, so the "getting to know you" portion is often left to the girls.
As I alluded to earlier, men sometimes get overwhelmed by the choices and end up presenting as overly eager (picture a puppy with his tongue out saying, "how about them?" "what about her?" "how about them?", while the wife pulls back on his leash). The overly eager approach generally is a turn off to men and women alike, so it is often best to let the women do the talking here.
Additionally, women can sometimes be heady and emotional (yes, I admit it). These feelings are often exacerbated in swinging, where there are often doubts and conflicting emotions. So, letting things proceed at a pace that is more comfortable for her is often the right approach. Sometimes, I feel like men would prefer to skip the pleasantries and get right to sex, but luckily (at least for me), most things in the Lifestyle are designed for the comfort of women. Meet & Greet events, parties, even small gatherings for drinks or dinner are usually planned so the women can get comfortable first before proceeding to playtime.
When men are too pushy, a lot of times women retreat, or if they do acquiesce to their partner's demands, things can quickly go downhill, whether it comes in the form of an argument (uncomfortable to witness a couple arguing at an event or during playtime), silent resentment, or just strained vibes. I'm sure we can recall a time where we felt that things were just "off" with a couple.
Even as a unicorn, women get to be in charge. You may have noticed that single women get a lot of privileges and perks that single men (aka bulls/stallions/rhinos) don't get. We get free profiles on the websites, free or reduced entry into parties, we get lots of correspondence- and why? The same reason why "vanilla" nightclubs have Ladies Night. Unicorns are a draw, a rare and special find for men, women, and couples alike. So, by virtue of our femininity, we get to "rule" a bit too. Unicorns are truly an example where women get to do the picking, as they don't have to consult with anyone but themselves in deciding what will or won't happen.
Now, the best part…Playtime. When it comes to playtime, again, women are in charge, although perhaps more subtly. Generally, if the women in whatever situation have bonded and are at least bi-comfortable, the events get started with the women "warming up" together without the men participating. Guys, please don't rush the girls, you'll get your turn! Even throughout play, the women may want to revisit each other (let this happen). But, the most important rule, the cardinal one, the one I want to leave you all with, whether it is during play or just in the Lifestyle generally- "Ladies Come FIRST" (and hopefully, often!)
Happy Swinging!